The New York Police Department (NYPD) Special Victims Unit (SVU) has opened an investigation against hip-hop mogul, Russell Simmons following allegations he sexually harassed and assaulted multiple women; of which some claim rape. Simmons is now a part of an unfortunate long list of A-list celebrities accused of sexual assault within Hollywood.
On Thursday Simmons vowed on his Instagram to fight back against the allegations stating, "Today, I begin to properly defend myself. I will prove without any doubt that I am innocent of all rape charges," he wrote, adding a #NotMe hashtag to his post.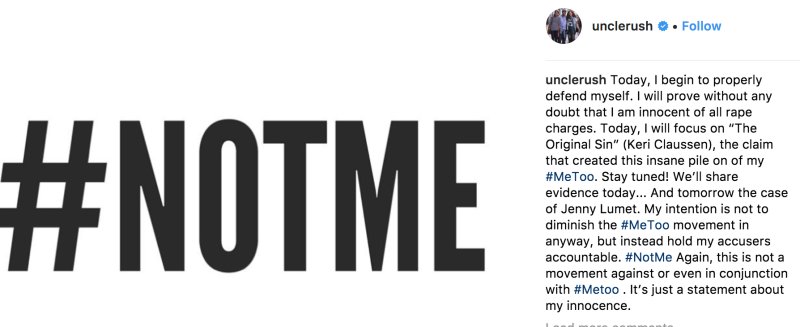 Courtesy of Russell Simmons Instagram
In response to the investigation, attorney for Simmons, Brad Rose released a statement saying that "Russell Simmons fully supports and will cooperate with the police inquiry and is confident of a swift resolution."
For some background, on November 19th The Los Angeles Times published an article in which former model Keri Claussen Khalighi said Simmons coerced her to perform oral sex and penetrated her anally against her will in 1991. Soon after screenwriter Jenny Lumet wrote in the Hollywood Reporter that Simmons had also sexually violated her in 1991 as well. Since then, multiple women have come forward with similar stories.
Following these accusations, Simmons has stepped down from his companies and vehemently denies allegations.
Featured photo courtesy of Scott Roth / AP file